Stephanie Hodge Wolfe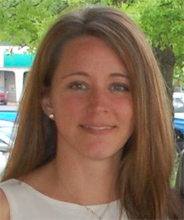 Stephanie Hodge Wolfe is a Licensed Social Worker who has been involved in child welfare practice in both the public and private sector for the past 20 years. Her work has focused on permanency service delivery in foster care, adoption and post-adoption areas of practice.
Experience
Ms. Wolfe has a Bachelor's degree in Human Development and Family Studies from The Pennsylvania State University, and a Master's degree in Social Work from The University of Pittsburgh. She has worked in direct service roles as a placement and adoption caseworker, resource family specialist (training and approving foster and adoptive families), and Family Group Decision Making coordinator and facilitator. Ms. Wolfe has also held director level positions in foster care and adoption programs in two large non-profit organizations. In her role as Deputy Director of Foster Care and Permanency Programs at one non-profit, she was an advisor to executive leadership on child welfare trends, research, and service delivery initiatives. She developed proposals, supported responses to RFPs, and created frameworks for existing programs to facilitate practice improvement.
Ms. Wolfe also works as an associate with Darla L. Henry and Associates, with an emphasis on training and program development and supporting agencies in the United States and Canada with the implementation of the 3-5-7 Model© practice approach.
Ms. Wolfe is a member of her local county Children's Roundtable, a work group that is facilitated by the county's President Judge with the purpose of addressing child permanency issues. Ms. Wolfe was recognized by the Commonwealth of Pennsylvania as Permanency Professional of the year in 2009. She served as a member of the board of the Pennsylvania State Resource Parent Association from January 2007 through June 2011.